On a sunny Tuesday afternoon, Carlos Paredes drove his truck down a long unpaved road running along a series of three greenhouse businesses on the agricultural outskirts of Pajaro.
The three businesses, which includes Salt of the Earth Nursery, are all involved in growing plants for the burgeoning cannabis industry.
As an account manager for AmeriGas, Paredes' job is to supply the natural gas that powers the generators, boilers, humidifiers and heaters, all of which help the plants thrive at the businesses.
The businesses are among 20 that are involved in greenhouse-grown cannabis, an industry that frequently turns to natural gas as a safe, reliable low-cost alternative to electricity, Paredes said.
"Some of these greenhouses don't have PG&E, or it's never been hooked up," he said. "And it costs a lot of money just to tap into it."
Paredes says he also supplies natural gas to agriculture businesses such as Sun Valley Berries, Royal Oaks Farms and Driscoll's. In addition, he provides natural gas for the Gilroy Garlic Festival, and sponsors the Watsonville Testicle Festival.
Salt of the Earth horticulturist Austin Meyers said that, with limited electricity in the rural location, propane kept the plants warm in the 25,000 square-foot greenhouse through the cold winter months.
That is an important factor for Salt of the Earth, which provides young marijuana plants for large, commercially licensed cannabis farms throughout the state.
The business grows about 70 strains of marijuana with names such as Gelato, Superglue, Key Lime Pie and the ever-popular Salty S'mores.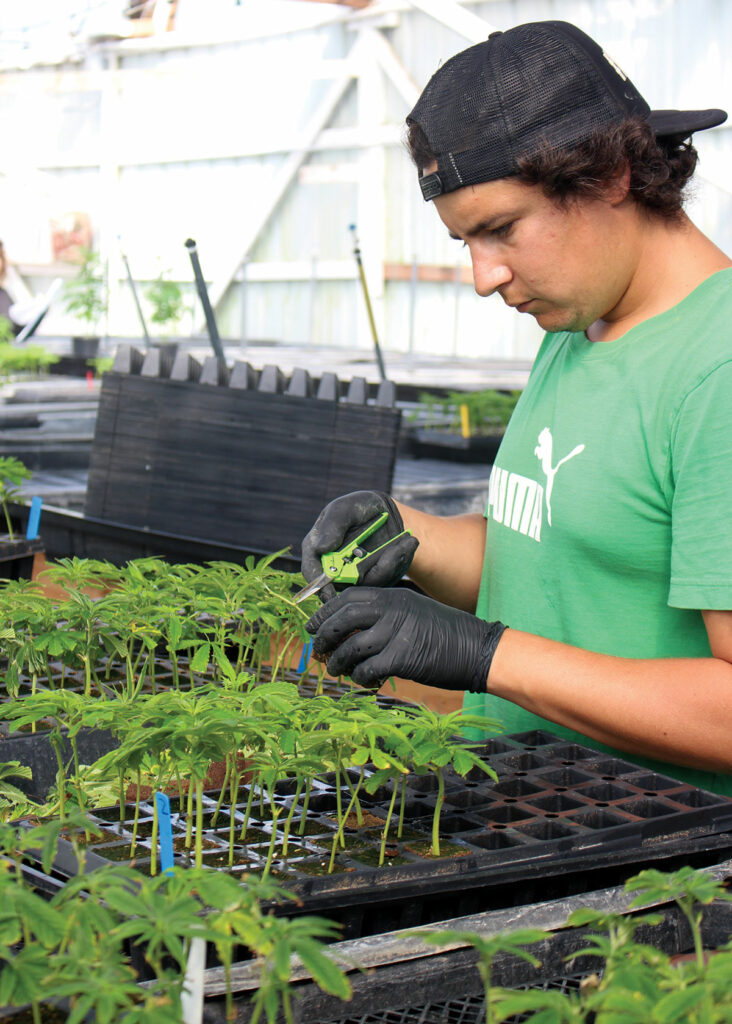 Meyers has a bachelor's degree in plant soil science from Southern Illinois University in Carbondale, where he ran the horticulture center. He said he was inspired by the myriad health benefits offered by cannabis.
He tried to work in the industry when he graduated, but disliked the highly regulated cannabis market, which was limited to people with chronic illnesses.
"All the big-time growers were producing all these products, but there was no customer base because they are so strict," he said.
He moved to California, where voters had recently legalized the recreational use of marijuana, and partnered with a friend.
The business' growing process starts with tiny shoots clipped from giant, lush "mother plants." These "babies" are then raised in a climate-controlled nursery, where the warm air is dense with misty water vapor.
Once they grow for a few weeks and take root, the plants are then moved to the "teen area," where they continue to grow, Meyers said. These are warmed with either heating pads underneath the pots or heaters under their tables in a room that is also climate controlled with a series of fans and louvers.
All of this takes a considerable amount of energy, Meyers said.
"Propane is definitely great for heating, and with what we're doing here, it is much cheaper than electricity," he said. "It saves a lot of money. If we went through PG&E it would be really expensive."
Finding alternative energy sources can also be a boon for jurisdictions where cannabis facilities are located.
According to a 2016 report by the National Conference of State Legislators, the indoor growing systems, fans and lights, sometimes must operate 24 hours a day, a tremendous energy draw.
Colorado noted a 45 percent increase in demands for electricity, which came from indoor marijuana growers, according to the report.
The City of Portland, Ore. experienced seven blackouts traced to marijuana facilities the summer after the state legalized the drug in 2014, the report said.
Solar panels, while an environmentally friendly choice, can be prohibitively expensive, Meyers said.
Greenhouse consultant Yariv Dorr, who works for a greenhouse next door, agreed.
"We need to power somehow without PG&E because we don't have enough power here," Dorr said. "Propane is a good choice."