Watsonville-based Farmer Max got its start in 2012 when Max Cain purchased the 15-acre property on Green Valley Road.
It is now a successful small-scale family-owned cannabis cultivation, production and distribution business, which he runs with his wife Kristi.
Max started by growing shishito peppers and strawberries, both of which garnered praise locally for their quality.
But his vision for his business was always to grow cannabis. The couple's dreams for the property include making it a destination for cannabis connoisseurs, with a tasting room similar to those of wineries.
For now, they stay busy growing several strains of marijuana plants, including Koko Puffs, Milk and Cookies and the popular Kosher Tangie. These they provide to dispensaries such as Santa Cruz Naturals, Tree House and Kind People's Collective.
They also package and process the plant for other growers and manufacture products such as pre-rolled "joints." In addition, the business designs and creates packages and labels for their clients' products.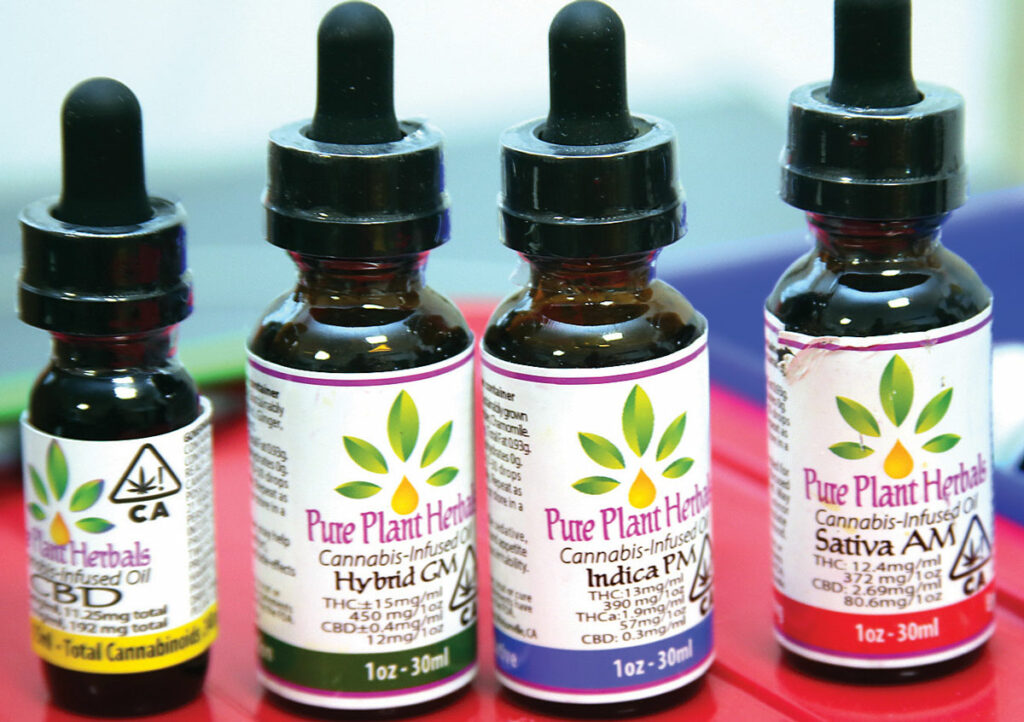 The indoor grow operation features hundreds of plants in various stages of growth, nurtured by an elaborate hydroponic system that pumps nutrient-rich water through the roots.
A self-described escapee from the L.A. film industry, Max is a native New Yorker who returned to Santa Cruz with a former girlfriend who left him on the day he started Cabrillo College's agriculture program.
Chapter two of this story began on the same day when he sat next to Kristi, "the prettiest girl in class." The two married on the Green Valley Road property earlier this year.
While he had long known he wanted to be a farmer, Max's interest in cannabis was piqued when, at 16, he visited his brother at college and saw an illicit dorm-based grow run by a chemistry major roommate.
That set him on a lifelong path of acquiring agriculture knowledge, aimed at an eventual career in cannabis.
This included a stint growing fruits and vegetables with his father.
"I thought it was the coolest thing ever," he said. "I went back and concocted a hobby to prepare myself for this. In the back of my head, I was training myself."
Based in the outskirts of Watsonville, Farmer Max is located on a property that in the 1950s served as a stopover for Barnum and Bailey Circus, Max said.
"There are pictures of elephants in the barn," he said.
Kristi studied agriculture at California Polytechnic Institute and began her career in the winery business.
Part of the business' mission, she said, is to help usher the cannabis industry out of the shadows where it lingered before being legalized in 2016.
"We're trying to bridge this gap between the local cannabis grower and the community, and remove that stigma," she said. "We want people to know the grower and to know the quality and care we put into producing a high-quality product."
Max said he sees the business as an antidote-of-sorts for the increasing numbers of large-scale businesses hoping to cash in on the burgeoning cannabis industry, which he said inevitably leads to a quantity-over-quality culture.
"We see a lot of corporate influence going on, and a lot of reduction in quality," he said. "Corporate influence it's not suited to agriculture. It doesn't reward risk-taking, and it is a problem."
"We see ourselves as the other side, concentrating on interesting strains that are unique to us," he added. "We really concentrate on going slow, doing it perfect, making sure everything we release, someone will be happy to buy."
For information, visit www.farmermax.com.