Megan Souza and her partner Eric Powers thought a market offering organic produce would be a great business.
So, they began Megan's Organic Market thinking they might set up on the coast. But after doing some research, they realized an organic produce market probably would not be financially feasible for them. Since they already had the business name, they turned to a different crop — cannabis.
With medical marijuana legal, the couple set about planting a crop in native Los Osos soil high atop Clark Valley. The native clay-loam soil and bountiful well water contribute to a high-quality product. Powers is the farmer in the business while Souza and her staff of women run the delivery business.
"Right now, we are solely a delivery business and we deliver throughout the county," Souza said, "but we have applied for a permit to open a retail shop."
Medical use of cannabis requires a doctor's prescription and clients obtain them from their family doctors or they can apply online. The online program takes a patient through a variety of health questions that can define both the reason for the request and the applicant's current health situation. Then a group of doctors reviews the request which can take more than a day. If there are any questions the applicant would receive a call from the doctor reviewing the case. Once a verification is received via email, the client can call Megan's Organic Market to schedule a delivery.
"Our mission is to improve the health of our community by providing safe and reliable access to quality organic medical cannabis," Souza said.
What is rare about this business is the fact that they grow their own product and prepare it. Most delivery services and store fronts buy from a variety of growers that use numerous methods of cultivation
"We don't use pesticides or petroleum derived fertilizers," Souza said. "We use only Organic Materials Review Institute (OMRI) certified pest control and disease management products and fertilizers. Megan's Organic Market is the only service provider in San Luis Obispo County that offers organic cannabis that is verified by SC Labs."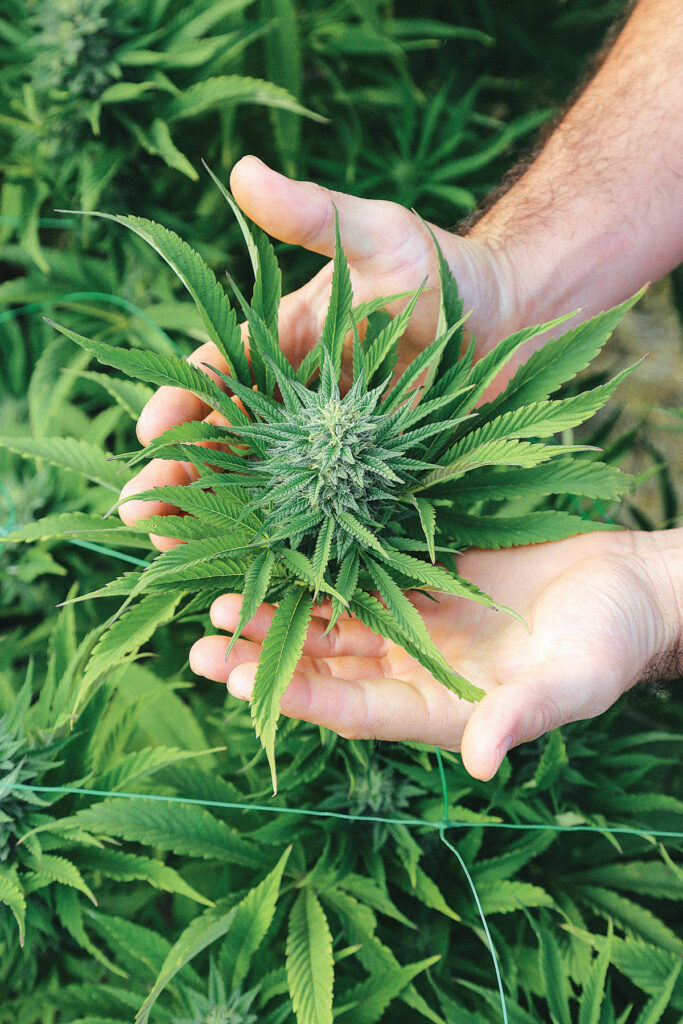 Why does someone turn to medical marijuana? Most clients rely on it for pain control. Souza's clients are primarily older people, especially women, who suffer from chronic pain. The use of cannabis rather than opiates has cut down on the opioid addiction problem. Another use is for battling depression and many veterans use it to deal with Post Traumatic Stress Disorder (PTSD).
Legally medical marijuana can only be smoked or ingested on private property. It also should not be used inside a vehicle. Basically, clients should follow the same laws that apply to alcohol and keep the product in a sealed container while in a vehicle. Megan's Market advises waiting 12 hours after consuming cannabis before driving. There are other regulations and you can find these on their website at www.megansorganicmarket.com.
There are two types of product: CBD, which is non-psychoactive, and THC, which is psychoactive. CBD is used to reduce inflammation, regulate sleep, reduce anxiety and treat PTSD. THC is used to treat chronic pain, induce sleep, inspire creativity and improve sex. Souza said that a person can take one or the other or a combination. Doses are up to 10 milligrams, but Souza advises clients to start slowly even as low as 2 mg to find out how they respond to the dose.
Both Souza and Powers are dedicated and involved in community actions. They clean up a section of Highway 1 and attend Neighborhood Watch in their area. They have paired with SLOTalkBroadcasting and produce a podcast entitled "Fresh Harvest" that provides information, stories and insights about cannabis.
Plans are to get the retail business going in Morro Bay and then proceed to open markets in other towns. The first on the list will be at the SLO Open Market Project going in on Higuera and Tank Farm Road.
People interested in learning more or obtaining medical marijuana can call (805) 235-6678.