New Pajaro location slated for successful cannabis dispensary
Long before recreational marijuana was legalized in California, Santa Cruz Naturals got its start in 2009 in Boulder Creek. Then, it was a small friends-and-family collective dedicated to providing legal medical cannabis to sick friends and neighbors.
Soon after that, owner and founder Colin Disheroon found the building that would become the business' Aptos headquarters.
In 2010, California voters narrowly rejected Proposition 19, which would have legalized the plant for recreational use.
Industry insiders did not see the defeat as a failure, but a harbinger of things to come.
Buoyed by the near victory, and seeing a cultural shift in public perception of the once vilified plant, Disheroon waited, certain the issue would came back to voters.
It did in November 2016 in the form of Proposition 64, which was approved by more than 57 percent of voters.
"There was a new wave of energy going into this plant that was once prohibited, and was responsible for the incarceration of so many people," he said. "Lives destroyed, families destroyed because of bad policies, and I saw the policies changing."
Now, adults 21 and over — and anyone 18 and older with a prescription — can walk into dispensaries across California and choose from several strains of marijuana and cannabis-related products such as tinctures, oils and food products.
"It was a significant change, and it was a change that we saw on the horizon," Disheroon said.
With the success of its flagship dispensary, Santa Cruz Naturals plans to open a second location in Pajaro, with an expected opening date in October.
Disheroon said he plans to hire about 25 people for the new shop, and is currently looking for bilingual employees.
The location, he said, will serve a community that does not currently have easy access to cannabis, and whose residents regularly make the trip north to his Aptos dispensary. He also hopes to offer pricing with the low-income community in mind.
Disheroon said he also sees philanthropic opportunities for his business in the Pajaro location.
"That's the goal," he said. "To embrace the whole community."
A green philosophy
Still family owned and operated, Santa Cruz Naturals uses local growers as much as possible, and uses biodegradable packaging in its products.
The business also tries to keep their cannabis as pure as possible.
Because cannabis is not legal under federal law, it cannot be officially labeled as organic by the USDA, which makes such designations.
So the industry instead uses Clean Green Certification, a California-based organization that uses the same strict standards the federal government uses for organic produce, Disheroon said.
The redwood countertops, cabinets and surfboard-marijuana leaf logo were made from reclaimed wood, as is the pine flooring.
"A big part of our goal is to reduce our environmental impact," he said.
What to expect
Dispensary Manager Louisa Disheroon — Colin's wife — said that Santa Cruz Naturals customers can expect a "boutique" experience when they enter the showroom.
Indeed, several surprisingly well-informed "budtenders" stand ready to extol the properties of the several different marijuana strains and products, depending on whether the customers want a sleep aid, a way to ease anxiety or a more "cerebral" experience.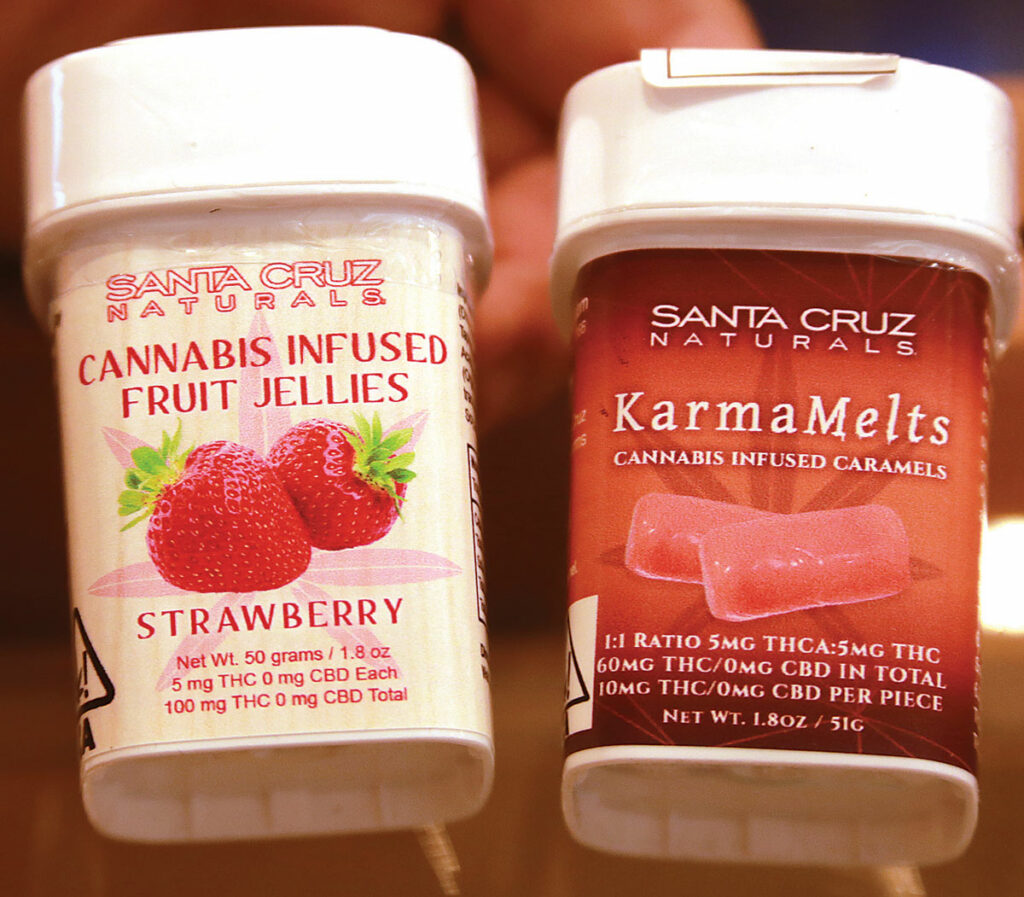 The business even has a customer loyalty program.
"We have a personal experience for our clients," she said. "We're here to answer questions for them. We're here to give them guidance as to what products are going to serve them the best."
Looking to the future
Now that the laws have changed, however, marijuana retailers have a new worry: corporate industries edging out small-scale growers in a bid for a piece of the budding cannabis industry. It is currently unclear how or when that will happen, but according to Disheroon, a large Canadian company recently purchased a dispensary in Santa Cruz.
Disheroon said he is optimistic about the future of his industry, despite the misgivings federal officials such as U.S. Attorney General Jeff Sessions about state laws supersede the federal prohibition on marijuana.
"I see policies changing at the federal level maybe in the next six months, maybe in the next year," he said. "I think it's going to happen pretty soon."
Santa Cruz Naturals is located at 9077 Soquel Drive in Aptos. It is open from 8 a.m. until 9 p.m. every day. For information, call (831) 661-5367 or visit santacruzcannabis.com.